Seattle Bamboo Sales
It is of utmost importance that as much bamboo as possible is replanted properly on another piece of property. Our precious atmosphere can hold about 700 billion tons of carbon dioxide and is presently estimated to contain 800 billion tons. Planting bamboo, trees, and other plants will help to mitigate this problem.
We presently have the following plants to sell. If you are in need and want bamboo, please feel free to email us.
Running Bamboo
Phyllostachys vivax - Japanese Timber - 25' tall
Phyllostachys Aureosulcata 'Alata', Green Crookstem Bamboo - 15-20' tall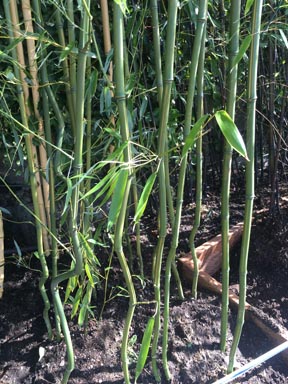 Phyllostachys nigra - Black Bamboo
Clumping Bamboo
Fargesia rufa 4-6' tall
Fargesia robusta 10-12' tall
Fargesia murielae 4-6' tall
Shibataea kumasaca – 4-6' tall
Email us at bruce@seattlebamboo.com
Seattle Bamboo
Seattle Bamboo is licensed by the State of Washington to solve bamboo problems, bonded to assure the work gets done as agreed, and fully insured to work on your property. Our state license number is SEATTB*913ML
We work in the greater Seattle area, assisting clients with their bamboo issues. Please call us - 206.724.1977.
Seattle Bamboo Contact Information
Email us at bruce@seattlebamboo.com
We answer bamboo questions with honest answers, not answers that promote profit.
Or call us at 206.724.1977